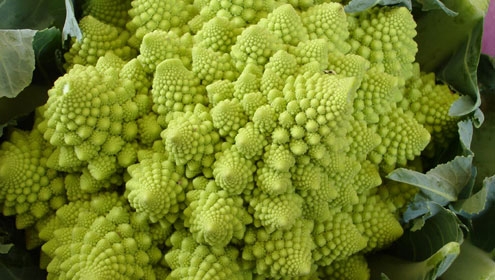 Dating back to the 16th Century, Broccolo Romanesco — which is closely related to cauliflower — belongs to the Brassicaceae family of flowering plants and is part of the mustard genus.  Thomas Jefferson planted it at his Monticello estate in the 1780s using Italian seeds.  However, the vegetable didn't really catch on in America until the 20th century.
Almost all parts of this species have been developed for food, including the root (rutabaga, turnips), stems (kohlrabi), leaves (cabbage, brussels sprouts), flowers (cauliflower, broccoli), and seeds (many, including mustard seed, rapeseed or canola oil).
Broccolo Romanesco is an unusual vegetable that comes into season during the late fall and lasts through winter.  Rich in vitamins and fiber, it is an interesting alternative to broccoli and cauliflower.  Give it a try — just don't over cook it!
Follow the links below for more information and some terrific recipes:
.