Winding down the restaurant has been more exhausting than I ever imagined.  My dear friend Andreas recently invited me to spend a weekend at his mother's home on Long Island for some rest and relaxation.  Beautiful gardens and an inviting swimming pool surround her home.  How could I refuse?
Andreas is an accomplished baker – his family is full of professional bakers, so it's in his blood.  Moreover, he recently completed extensive baking instruction at New York's French Culinary Institute.  What better way to relax than enjoy the garden, the pool, and baking?
I met Rose Levy Beranbaum a few months ago when she began coming to Bellavitae at the recommendation of Karen Page and Andrew Dornenburg.  Her cookbooks are well suited for every type of baker, from the novice (me) to the expert (Andreas).  I had success with bread recipes from Rose's The Bread Bible, so I asked Andreas if we could try some desserts from The Pie and Pastry Bible.  He's a fan of Rose's so no convincing was necessary.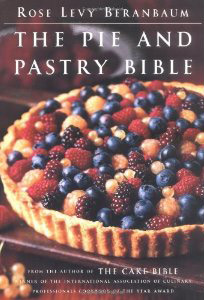 Here's what we made:
Open-Faced Fresh Blueberry Pie (page 107)
There are several blueberry bushes on the property and the fruit is now at its peak.  This pie seemed like the perfect choice.  We put a twist on the recipe by using the crumb topping Rose uses on her Apple Crumb Pie (page 86).  We used her Basic Flaky Pie Crust (Page 22).
The dessert turned out beautifully – the pie's star was undoubtedly the blueberries, which we had freshly picked.  No cloying sauce or heavy pastry to crowd out nature's sweet gift to summer – fresh berries.  What a delight.
Classic Napoleon (page 453)
Gulp.  What dessert is more intimidating?  Or more satisfying!  I hadn't had Classic Napoleon since the last time I vacationed at the Cala di Volpe.  This resort hotel on Sardinia's Costa Smeralda may very well have the best hotel lunch in the world.  The freshest, most carefully crafted cuisine still remains in my memory – including their Napoleon, which I had at least once a day (!)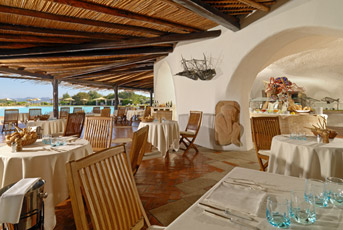 The Napoleon is a combination of many French classics:
Classic Puff Pasty [Millefoglie in Italian] (Page 417)
Puff pastry seems to be the threshold over which all would-be pastry chefs must cross.  Once again, Rose guides you through the process with ease, anticipating any question or problem that may arise during your endeavor.  And yes, Rose, we gave the pastry a total of seven turns!
Poured Fondant (Page 581)
What used to be a painstaking process for this cream confection is now extraordinarily easy with Rose's use of a food processor.
Pastry Cream [Crème Pâtissière] (Page 560)
Rose's version of this classic custard is light but still flavorful due to her use of whole eggs (instead of just the yolks) and half-and-half (instead of heavy cream).  Fat tends to dull the palate, so a lighter pastry cream will allow other flavors of any dessert to shine (éclairs, fruit tarts, and of course Napoleons).
Chocolate Drizzle Glaze (Page 454)
As Rose suggests in other recipes, we used chocolate that had not too-high a percentage of cocoa – I think we used 52%.
Cooking – and baking – can be so relaxing.  And it's a fun project to do with a dear friend.   Our two desserts turned out wonderfully and I just finished the last piece of the Napoleon today – it kept well refrigerated since Sunday.
So thanks Andreas and Rose (and Ingeborg and Wil).  I have a few new techniques under my belt!
By the way, Rose has one of the most helpful websites / blogs for baking and I highly recommend it.  She has developed a sizeable following of bakers that write in to offer comments and ask questions.  So if you cook from one of her books and get stuck, you can simply check out her blog for comments or even write in and wait for her to answer, something that is rare in the cookbook world.
Finally, here is what amazon.com has to say about The Pie and Pastry Bible:
Reading about the ins and outs of baking the perfect, flaky pie crust is a little like reading about how to achieve the perfect golf swing: the proof is in the doing.  And it often takes a remarkably intuitive reader to understand exactly what the author is getting at.  Not so the work of Rose Levy Beranbaum, the author who gave us The Cake Bible.  If ever there was a cookbook author who could place her hands on top of yours, putting you through the proper motions, helping you arrive at just the right touch, Beranbaum is the one.

The Pie and Pastry Bible begins with the crust.  The author confesses right up front that 21 years ago, when she first began her quest for the perfect crust, "it was a complete mystery to me."  She wasn't looking for a once-in-a-lifetime experience, but something she could consistently turn out at a moment's notice.  The ideal pie crust, she writes, "has light, flaky layers, but also … is tender, and nicely browned, with a flavor good enough to eat by itself."

In a book that stretches to about 700 pages long, her favorite pie crust is the first recipe:  Perfect Flaky and Tender Cream Cheese Pie Crust. Typically, Beranbaum lists the ingredients by measure and weight for three separate sizes of pies, then gives instructions for the food processor or by hand.

After 70 pages of pie crusts, tart crusts, and crumb pie crusts of every imaginable make and combination, Beranbaum starts with fruit pies.  Her first (of many) detailed charts shows exactly what her ratios are of fruit to sugar to cornstarch.  Then each recipe (start with The Best All American Apple Pie) includes pointers for success as well as several variations on the theme.  Under the headline "Understanding," Beranbaum goes that extra mile by taking the trouble to explain just why something works the way it does.

If you are only going to own one cookbook for pie and pastry recipes of every imaginable stripe and combination, you can't go wrong with this one.  It's the Bible, after all.

–Schuyler Ingle